How To Prevent Agricultural Runoff
WHAT IS AGRICULTURAL RUNOFF?
Agricultural runoff is the flow of water that occurs when farm irrigation systems apply more water than the ground can absorb. Excessive irrigation can affect water quality by causing erosion, transporting nutrients, pesticides, and heavy metals. In the 2000 National Water Quality Inventory, states reported that agricultural runoff was a leading source of water quality impacts on rivers, lakes, wetlands and ground water.
ENVIRONMENTAL EFFECTS OF RUNOFF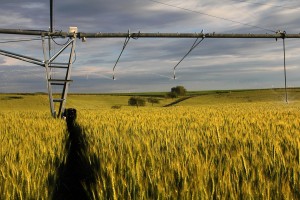 Runoff is one of the most environmentally sensitive issues in irrigation. Agricultural runoff can carry fertilizers, pesticides, bacteria, solvents, oils, and grease into lakes, rivers, and streams. Runoff also means water application is less efficient, which increases costs. Soil erosion is a pollutant issue also resulting in lost fertilizer and lower overall crop growth. The EPA's Agricultural Non-point Source Fact Sheet recognizes converting to high-efficiency irrigation systems may help to reduce runoff, along with adopting other technologies and practices to reduce agricultural impact on water quality.
HOW WE HELP PREVENT RUNOFF
Boombacks has been improving irrigation systems for over 50 years. Our Innovative Boom Technology reduces runoff and water usage, resulting in lessened soil erosion and compaction. Our Dry Wheel Track Technology helps to apply water more uniformly and keep your system running smoothly. Even more improvements can be achieved with sprinkler heads, valves, regulators, and more agricultural innovations from our partners and others in the industry. We're working together to make improve farms, conserve resources, and save money for farmers and producers around the world.